The OnPower Electric Modular Power Plant is designed to supply energy to remote areas, such as isolated rural communities, mining, oil rigs, post-storm sites, earthquakes, etc., or areas where conventional power supply does not exist.
It is supplied in a 20- or 40-foot ISO maritime container with noise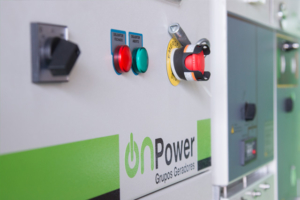 control and configured by a set of integrated units with each other and capable of generating medium voltage power for the local power distribution system, and these power supply units are defined as:
Generating units
Cooling unit
Distribution unit
Transformer
In the internal part of the container base, are installed embedded tanks between a double wall for the containment of contaminated oil/water, while in the cabin comprising the cooling unit, air inlets are provided which aid in the cooling and at least one pair of fans.
The OnPower Electric Modular Plant can be assembled with four or two generators, which, in its turn are powered by natural gas, automotive diesel or biodiesel engines, and each generator is coupled to a gas exhaust pipe that is installed in the top wall of the container. This configuration allows the distribution of charge between generators, increasing the efficiency in the relation of fuel consumption x KWe, besides the useful life of the engines.
Measurement
Generator voltage (Three-phase/4-wire)
Generator current (3 true RMS values)
Mains voltage (Three-phase/4-wire)
Mains or ground current (1 true RMS value, mains or ground current selectable)
Voltage Bus (Single-phase/2-wire)
Control
Circuit Breaker Control Logic (open and closed transition)
Automatic, Manual, Interrupt and Test Operation Modes
Single and multiple drive operation
Operation of multiple parallel units (up to 32 units)
Automatic mains failure and stand-by operation
Critical operation
GCB and MCB synchronization (offset/phase match)
Import/export control (kW and kvar)
Load dependent start/stop
Remote control n/f, V, P, Q and PF via analog input or interface
Load sharing/ var. up to 32 generator sets
Free Configuration PID Controllers
Interface - Human Machine (IHM)
Colour screen with soft-key operation
Start/stop logic for diesel/gas engines
Operating hours/start/maintenance counters/active/reactive power
Configuration via PC (serial connection and ToolKit software)
Event recorder inputs with real-time clock (backup battery)
ANSI Protection
Generator: voltage/frequency: 59/27/81O/81U
Generator: overload, Reverse/Reduced Power: 32/32R/32F
Generator: unbalanced load: 46
Generator: instantaneous overcurrent: 50
Generator: overcurrent time
(in accordance with IEC 255): 51/51 V
Generator: grounding fault
(measured ground current): 50G
Generator: power factor: 55
Generator: rotating field
Engine: excessive speed/Reduced speed: 12/14
Engine: speed/frequency mismatch
Motor: Auxiliary excitation fault D +
Engine: Cylinder temperature
Network: voltage/frequency: 59/27/810/81U
Network: phase change/rotation field/ROCOF (df/dt) 78
Listings and Approvals
UL/cUL Listing
CSA
LR & ABS Marine
BDEW/VDE-AR-N 4105
CE marking
⚡ 50HZ – 1,500 rpm 13.2 kV
⚡ 60HZ – 1,800 rpm 13.8 kV
| PRIME | COP | MOTOR | FUEL | ALTERNATOR |
| --- | --- | --- | --- | --- |
| KVA: 1904 – KWE: 1524 | KVA: 1540 – KWE: 1240 | (4x) SCANIA OC16 | NG | WEG |
| KVA: 2000 – KWE: 1160 | KVA: 1576 – KWE: 1261 | (4x) SCANIA DC13-072A-14 | DIESEL | WEG |
| KVA: 2252 – KWE: 1802 | KVA: 2252 – KWE: 1802 | (4x) PERKINS 2806 | DIESEL | WEG |
| KVA: 2248 – KWE: 1798 | KVA: 2100 – KWE: 1680 | (4x) PERKINS 2506 | DIESEL | WEG |
| KVA: 2520 – KWE: 2016 | KVA: 1880 – KWE: 1504 | (4x) Volvo Penta TAD 1642 GE | DIESEL | WEG |